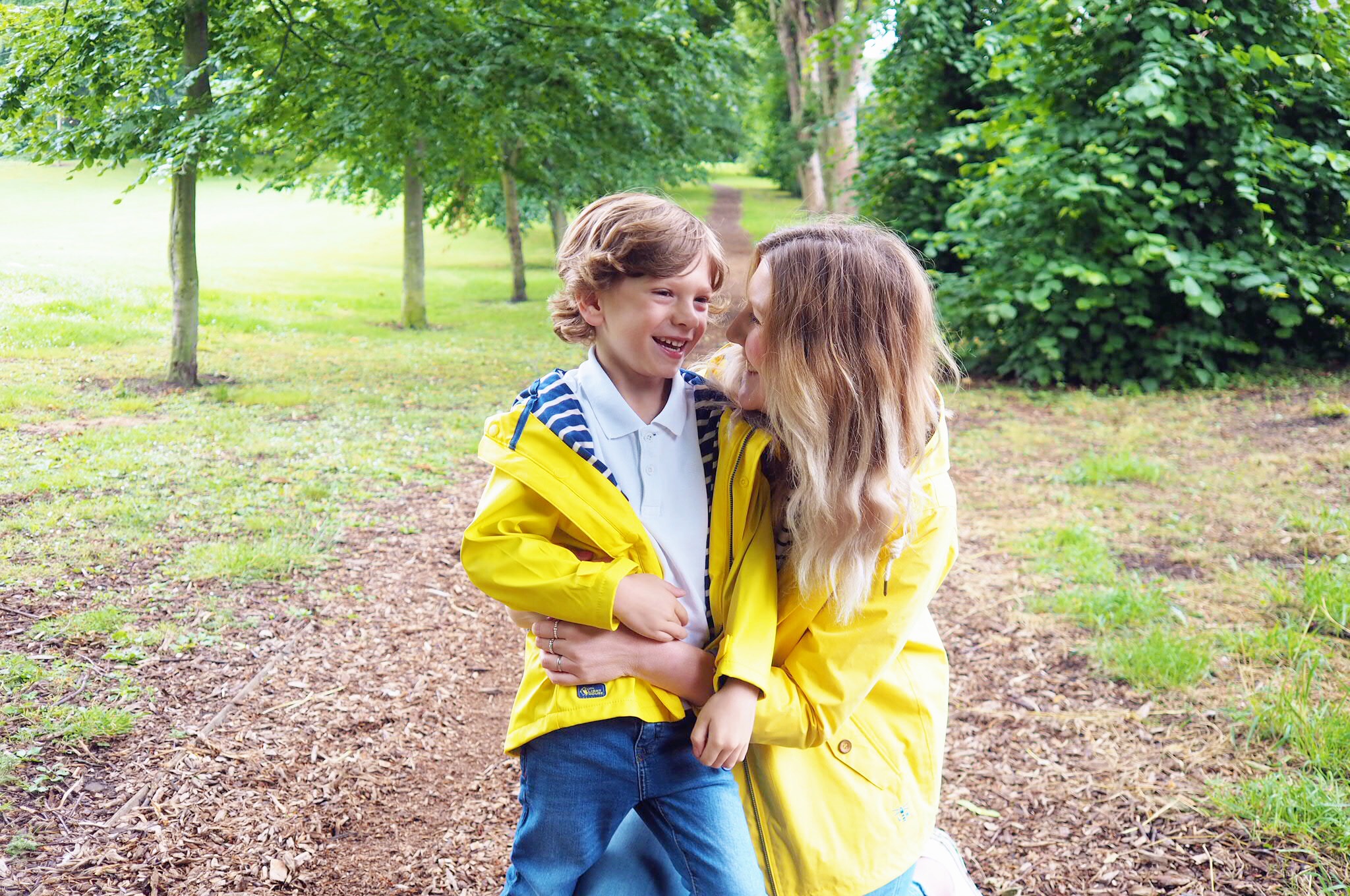 Twinning is winning they say. As a mummy to a little boy I rarely get the opportunity to wear the same as him so I am sure you can imagine my excitement when the opportunity presented itself! I'm usually a pretty trench coat, leopard print duster jacket or alike kind of girl, on too many occasions have I been caught out on the school run or our days out and so I have added a little practicality to my wardrobe. I have succumbed to packing a rain coat just in case like it did at the weekend the weather turned, on this day we weren't caught out by the rain. On this day I was cheered by my six year old as we didn't get wet. A parenting win.
And with the weather as unpredictable as a six year old it is time to join in with the yellow rain coat hysteria. One of the most noticeable things in outdoor fashion lately is a brightly coloured rain coat which are fast becoming the norm. I took the plunge – and I guess you could call this seasonal dressing. On Saturday morning we were treated to a downpour which was at the precise moment that we were enjoying a little walk with our furry baby and on Sunday afternoon the sun shone as we were tucked up in doors watching a movie drying off from the morning treat.
My outfit is pretty basic: my uniform of stripes, jeans and converse. Canary yellow is a difficult colour to pull off, however teamed with a Breton stripe and my converse I think I managed it. The lovely people over at Lighthouse Clothing have the cutest collection – I couldn't resist a little twinning with my gorgeous boy and let's not forget those blue and white stripes – the perfect combination.
We won't be getting caught out on the school run or our family days out that's for sure. I'm a little excited about that, boy do I sound old and that is definitely the mummy approach coming out in me – I think I might be turning into my mother-in-law. Practical clothing and a rain coat it is. Gone are the days when I am inappropriately dressed for a birthday party, just like I was at George's, completely mis-judged the weather and was left looking a little worse for wear alongside all the prepared parents who were indeed in their colourful rain coats.
And how cute is George's little jacket? I actually prefer the lining on his coat, but then you know me I do love a breton stripe. In terms of practicality I love the velcro stripe on the sleeve of his jacket, helping to keep out the rain and lets not forget the little hood with its press stood at the neck which I am sure will come in handy when the combination of wind and rain invariably arrives later on the year.
So tell me, are you a practical or fashionable dresser? Although I should say that Mr H said I looked rather cute in my rain coat, thanks for that!
* Disclosure – this is a collaborative post