Is it really time for this week's little loves? Well actually I'm a little late in writing my round up this week. You see, I very nearly didn't but then I realised that amongst the truly terrifying week we have had there have been some lovely moments and that is exactly what this little project is about. Let me take you back to the beginning, last weekend I met up with the lovely Jenny for a little catch up before she left for America. The sun shone all day long, and so when I arrived home Mr H had been planning a little family BBQ, the perfect way to end the weekend. And then Monday arrived.
Sadly things very quickly changed for a really close friend of mine at the beginning of the week. She was involved in serious car accident, in truth we nearly lost her. She was air lifted to Aintree after being cut out of her car to the specialist trauma centre. By Wednesday we were all broken, presuming the worst and in hope of some positive news and thankfully on Thursday our prayers were answered and we were able to breathe a huge sigh of relief. Despite having a broken vertebrae in her back, a hairline fracture and broken bone in her skull and many other horrendous injuries she is now home and on complete bed rest. Thankfully we live a few steps away from each so currently I am playing nurse along with her partner and little boy. Truly awful but on a positive note she will make a full recovery, just sadly it will take months.
And so, grab a cuppa and read on for this week's little loves…
Read…
Moving swiftly on. Nothing to see here.
Watched…
In preparation for the big return of Game of Thrones on Monday, Mr H has decided to go right the way back to the beginning. I had forgotten about some of the early scenes, shocking they were, I wouldn't say they get any less shocking, more disturbing more than anything else. Will you be watching on Monday evening?
Heard…
Mr H has been treating us to some new songs on our family Spotify list these last few days. Arcade Fire – Everything Now and Dua Lipa – Lost In Your Light are my favourites.
Made…
A little breakfast in bed, I do love peanut butter on toast – although if George had his way he would have Nutella mixed in too. We are proud to be working with Sun-Pat to support their fuelling families campaign. If you are stuck for things to do over the summer holidays then pop over and see what they have to offer, with an action-packed activity guide with tips and tricks to ensure kids (and adults!) keep active this summer. My favourites are numbers 11, 27 and 41. I'd love to know what summer activities you'll be trying on the list?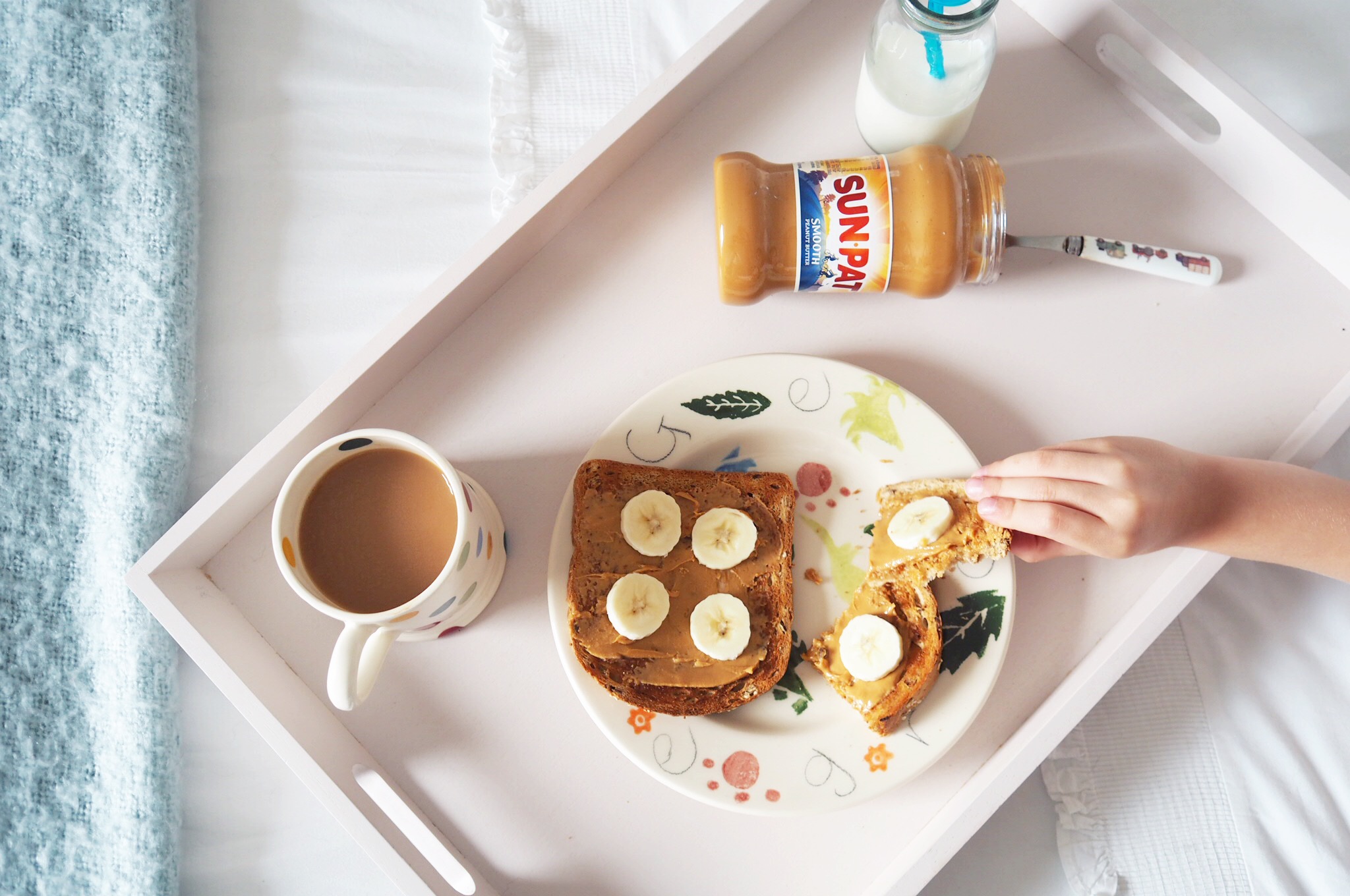 Wore…
I have been wearing this gorgeous little floaty dress from Laura Ashley, my latest collaboration with them is up on their blog where I am talking about going from day to night with a staple piece, the summer dress. And then my new favourite dress from the brand Nobody's Child at Topshop, this ditsy floral print, long sleeves and sheer finish will have so much wear in the coming weeks. It really does make me smile. How pretty is it?
And lastly…
We are taking things a little slower this weekend, I'm splitting my time between home and helping my friend. A little rest, time with friends and family and not venturing much further than the field to walk our furry baby, sounds pretty perfect to me. All that we need now is for the sun to pop his hat on and to dry up all this rain. Have a great weekend and week ahead little loves crew.
I have added this post to Morgana's #LittleLoves over on her blog Coffee, Work, Sleep, Repeat.